What Our Patients Like Most About Our Pharmacy
We would love your feedback! Please let us know how we are doing and leave us a review below.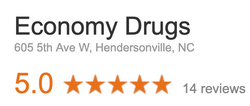 "You feel like you are part of their family, they never hesitate to go the extra mike to be helpful. Just a first class experience every time I visit. Not another store like them."

"There's no competition! These folks care about our health and our community. We recommend them to everyone we meet! Thank you for all you do for our family."

"We have been customers of Economy Drugs ever since it opened. I have never found people more committed to taking care of their customers or with so much compassion. They remember your name and will bend over backwards to help you. I'd give the 1,000 stars if I could."

"They are very friendly, professional, efficient and just a top notch pharmacy. The best in the nation!!"

"Wonderful knowledgeable and friendly staff. I can't imagine ever going anywhere else! I've been going to them for 47 years and I don't have a single complaint!"

"The best drug store ANYWHERE! I've been going to Economy since it opened and have never received anything less than exemplary service."

"Super friendly and knowledgeable. Pharmacist are amazing for providing information to customers, not just pushing filled prescriptions out the door. A real asset to the community."

"Knowledgeable staff who are also a fine example of hometown caring and service! Been going the there since I was a small girl. (And that was a long time ago! LOL) This store is the BEST!!"

"I like going to Economy Drugs. They are always friendly, helpful, knowledgeable and reassuring. They remember me and they find the best prices for my prescriptions too. I recommend them to everyone and wouldn't go anywhere else. Go Heels!"
We would appreciate your feedback to share on this page of our website. We'd like to let others know what our current customers have to say about Economy Drugs! Thank you in advance for your time and consideration.